Description
The Daniel Defense MK12 Upper Receiver Group is constructed around an 18-inch Stainless Steel barrel with a chamber created during the Cold Hammer Forging process, which ensures the most precise alignment of the chamber to the bore possible.  This, along with being DLC finished, equates to unprecedented accuracy and durability.  The MK12 barrel is engineered with a rifle-length direct impingement gas system and utilizes the MK12 gas block, which is built to Crane Specifications for USSOCOM.  The MK12 gas block is precision CNC machined from 416 stainless steel and Black Oxide Coated. The URG is fed with a M16 profile bolt carrier group and uses a BCM Gunfighter Charging Handle for ease of operation.  The upper receiver is equipped with a free-floating DDM4 Rail 12.0 quad rail for allowing your choice of optics and accessories and is finished off with a Daniel Defense Improved Flash Suppressor.
Features
Mil-Spec Upper Receiver with Indexing Marks and M4 Feed Ramps. CNC Machined of 7075-T6 Aluminum, Type III Hard Coat Anodized
Proprietary Barrel Blend of Stainless Steel, Cold Hammer Forged, 1:7" Twist, 18″ MK12 Profile, DLC Finished, and HP/MPI Tested
MK12 Low Profile Gas Block CNC Machined of 416 hardened steel with Black Oxide Coating, Rifle Length, Direct Impingement
Daniel Defense Flash Suppressor, 17-4 PH Stainless Steel, Salt Bath Nitride Finished
M16 Profile, Mil-Spec MP Tested, Chrome Lined, Properly Staked Gas Key
Daniel Defense DDM4 Rail™ 12.0, CNC Machined of 6061-T6 Aluminum, Type III Hard Coat Anodized
Daniel Defense Rail Panels Made from Santoprene, Heat Resistant to 300° F.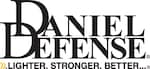 Made In United States of America
Specifications
Product Information
| | |
| --- | --- |
| Cartridge | 5.56x45mm NATO |
| Finish | Hardcoat Anodized |
| Material | Aluminum |
| Weight | 5.23 Pound |
| Barrel Length | 18 Inches |
| Twist | 1:7 Inches |
| Barrel Contour | MK12 |
| Sights | No |
| Barrel Finish | Anodized Black |
| Chrome Lined | Yes |
| Gas System Length | Rifle |
| M4 Feed Ramps | Yes |
| Upper Receiver Type | A4 Flat-Top |
| Barrel Material | Chrome Moly Steel |
| Handguard | Daniel Defense DDM4 Rail 12.0 |
| Bolt Carrier Assembly Included | Yes |
| Muzzle Device | Daniel Defense Flash Suppressor |
| Mil-Spec or Commercial | Mil-Spec |
| Country of Origin | United States of America |
| Compatible With | |
Delivery Information
| | |
| --- | --- |
| Shipping Weight | 6.550 Pounds |